Did you know there are three kinds of traffic when it comes to marketing? Have you ever wondered how you can advance your target audience through the buyer journey when they visit your website or landing pages? Let's discuss what it takes to turn cold traffic into a hot buyer list by guiding these potential customers in the right direction.
Step 1: Understanding Different Traffic Types
Not all traffic coming to your site will be the same. Having a basic understanding of the three types of traffic is extremely important. Each type of traffic represents a different part of the sales funnel/buyer journey.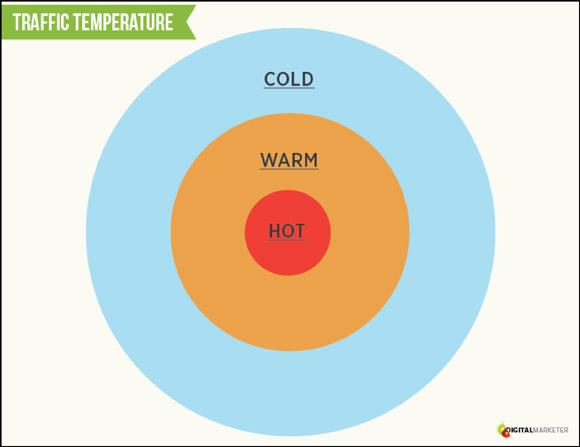 (Image source: Digital Marketer)
Cold Traffic: People who have never heard of your business, brand, product or service. You have no previous interactions with them, and you must establish a relationship before taking any further action.
Warm Traffic: People have seen your brand, are aware of the problem they are having, and have shown some interest in your business or product. However, they aren't quite ready to purchase. A bit of convincing or educating about who you are is needed at this stage. You'll also want to supply content and resources that cover why you deserve their trust and how your product can solve their problems.
Hot Traffic: People who know exactly who you are, what you're selling, and why they need it. This also contains people who have previously purchased from you.
Step 2: Engage with Your Cold Traffic and Create Segmentations
In order to build a relationship with a cold traffic audience, you need to create awareness about your brand while at the same time getting to know your audience. You can do this by:
Introducing your brand or products
Displaying your awareness of the problem your target has
Encouraging them to follow you on social media or subscribe to your blog
Getting them to join your email list
Keeping track of how they behave on the site or other touchpoints
Using a conversion tracking pixel to target more relevant ads and content
With the above actions and data collection, you will be able to further segment your cold traffic. The key to creating and maintaining successful relationships with your cold traffic is to send the most relevant content at the right time and give them information about what they're interested in. Here are some common models and types of segmentation:
Demographic Segmentation
Geographic Segmentation
Psychographic Segmentation
Technographic Segmentation
Behavioral Segmentation
Needs-based Segmentation
Value-based Segmentation
Step 3: Create Relevant Content
After you have a clear idea of how you would like to segment your cold traffic, your goal should be to create content that attracts their attention and increases engagement. During the cold traffic stage, people are likely seeking information—not making purchase decisions. Here are some content types you might want to consider:
Blog posts
Videos
Podcasts
Surveys
Quizzes
Infographics
Research findings
Guides
It is important to create content that introduces your brand and products slowly without being too aggressive. At this stage, your audience has realized they have a problem they need to solve and are looking for solutions. By consistently delivering useful and relevant content, you will build a relationship with your audience and move them to the next stage.
Step 4: Setup Marketing Automation
It takes time and effort to convert your cold traffic into the warm or hot traffic stage. The most effective and efficient way to do this is by leveraging marketing automation tools. Marketing automation is designed to streamline the marketing process and has been demonstrated to result in over 25% higher returns on marketing. While you're in the process of converting your audience to warm or hot traffic, you can leverage the following types of automation.
Email Marketing Automation: Set up a trigger to send out emails and personalize your messages based on specific actions customers take.
Social Media Marketing Automation: Schedule content and set social media monitoring filters.
Advertising Automation: Display relevant ads based on consumer behavior.
With marketing automation, you can focus more on content creation and the growth of customer relationships.
Step 5: Review Your Marketing Results Regularly
As you can see, it is critical to understand the process of converting cold traffic into a hot buyer list. However, your marketing efforts shouldn't stop there. Once you have executed and rolled out your marketing plan using the previous steps, be sure to continually analyze and measure your results. This will allow you to make necessary changes to enhance your marketing efforts and get the largest return on investment. Here are some bonus tips to help you warm up your potential customers for better conversions.
Accelerate Your Customer through the Buyer Journey
Do you understand the basic concepts of the buyer journey but want to deep-dive further with a team of marketing and sales experts? Set up your free 30-minute strategy call with Uncommon Marketing works! Our team is ready to help you take your business to the next level and increase your bottom line. Contact us today!