Ring. Ring. Hi, my name is Staci with Uncommon Marketing. [pause, pause, pause] How are you today? Sounds like the start of a cold call, right? The inbound sales philosophy suggests this is the start of an "always be helping" warm call, something I learned during my 8-week inbound sales boot camp with Hubspot.
Let's face it, who wants to make a cold call? Not me. And more importantly who wants to receive a cold call? Not me. The reality is inbound marketing can help excel your warm leads through your online channels; however, you or your sales team still have to follow a sales process. Note, that if you are developing an inbound sales process concurrently with your inbound marketing strategy, you achieve higher relationship-based results.
Hubspot has been the founding innovator of the inbound sales process. As defined by Hubspot, "Inbound sales is a personalized, helpful, modern sales methodology. Inbound salespeople focus on their prospect's pain points, act as a trusted consultant, and adapt their sales process to the buyer journey." Not only is this a journey for the buyer it's a journey for the sales consultant as I learned during the inbound sales boot camp.
What I learned and what you can take away from my every Monday morning phone calls [UGH] with Hubspot Director and inbound sales guru, Dan Tyre.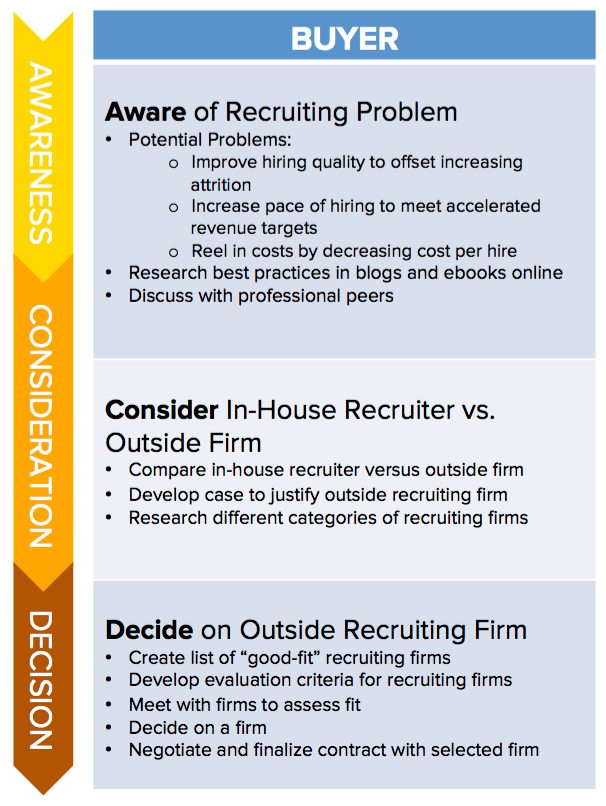 Step 1: Define your inbound sales process.
To build a successful inbound sales process, you must first start with the following five steps. This process should be detailed along with your marketing's inbound strategy. 
Define your buyer's journey [awareness, consideration, decision]
Develop a sales process that supports your buyer's journey [identify, connect, explore, advise]
Identify your ideal buyer persona
Lead with a helpful, customized prospecting message
Craft customized questions to uncover the prospect's pain
Develop a tailored presentation
Step 2: Just Do It.
Now that you have your baseline inbound sales process, we move on to the inbound sales process.
Customize, customize, customize. –Everything you do in the inbound sales and marketing process should always be tailored to your prospect's needs and wants and how you can help them. Have a good reason for contacting your prospect. Focus on "Why you and why now?" Don't just call your prospect to call; this would be your typical cold call. Be prepared to add value. Besides having a reason for reaching out, add value when you contact your prospect.
Make your process scalable and know how to help your prospect – While your message should be tailored to each target account, you don't have to rewrite each email for each prospect completely. Your messaging should target a specific buyer persona and company profile, and there are likely to be shared elements that resonate across contacts.
Use a prospecting sequence. – This is where Hubspot provides a huge value for our sales team in reducing the amount of time prospecting and follow-ups. Research shows that it takes 8-12 touches to reach a decision-maker by phone, even when they are interested in your products or solutions. Your success at prospecting depends as much on your follow-up and diligence as on the relevance of your messaging. So make sure to use a sequence of attempts for each prospect.
Nurture and keep nurturing – Not every prospect you reach out to will be ready to buy right away even if a form is filled out on your website. Although you may stop your immediate prospecting attempts at 8-12 touches, keep a list going of a potentially good fit, but not hot, prospects in your CRM. By working closely with your marketing team, you can set up nurture campaigns in your Hubspot account to keep your company top-of-mind with these prospects.
Monitor and Prioritize – Keep focused on your most interested prospects. The Hubspot free CRM and Sales Pro has been an enormous help for me with keeping me informed of my prospect's engagement with my marketing activities.
Here's the big one: Just Do It! – This step is the one I struggle with as many others. Based on the inbound sales methodology: The best way to improve your prospecting sequence is not to sit for two weeks creating the perfect emails. The best way is to:

Put together a list of target accounts based on a persona and company profile you select
Start creating and sending emails and voicemails that will be relevant and helpful
Start turning those emails/voicemails into templates you can further customize for other prospects, and
Start tracking your efforts via a CRM and email intelligence tool
Phew, that was a lot. Almost everything Dan Tyre pushed me to do over the 8-week program as I kicked and screamed. So, what I learned in my 8-week inbound sales boot camp is that it takes time, persistence, and dedication to move the needle. The inbound process whether inbound sales or inbound marketing takes time to see those results the inbound agencies speak about. So buckle up, and just do it!