The focus at SEJ Summit, much like everything else in January 2021 was "leaving 2020 behind and looking forward to 2021," and with this, the elephant in the room was the impending Google algorithm update.
Google Page Experience Update, May 2021
Every presenter at this conference at least referenced this update. It's a big one. Is it Panda or Penguin? Is it going to change the entire landscape of search and blow the pretenders out of the SEO industry like those algorithm changes did? Not quite. 
The Google Page Experience Update is a test for web developers. That's right, SEO experts are at the mercy of their web development colleagues. Together, developers and SEO experts need to team up and ensure that the user experience of a page is the top priority. Much like Panda challenged the professional SEO landscape in 2011-2012, this update will challenge the web development landscape. 
So, as an SEO—how do we work with the development team to make sure our site doesn't lose everything with this update?
Google Core Web Vitals
The Core Web Vitals report was added to Google's Search Console suite sometime in Q2 of 2020. This wasn't a simple feature addition. This is now the core measurement tool that SEO experts have to build their site up to the standards of the update. This tool is designed to measure 3 major factors in page experience:
Largest Contentful Paint (LCP)

: Simply stated, this answers the question, "How fast does the page load in a way that the user can visually experience

some

content?", an often undervalued element of the Site Speed tests. Google's standard here is being set at <2.5 seconds. 
First Input Delay (FID):

The question answered here is, "How fast is it possible to interact with the page?" Google wants this to be <100 milliseconds. Why is this lower than LCP? Well, because a user wants to feel like they're in control. Even if lower-priority elements haven't fully loaded yet, Google has determined that users want the option to scroll. If nothing else, it delays the inevitable frustration that sets in when things aren't loading quickly.

Cumulative Layout Shift (CLS):

This answers the question, "How often does content move on a page once it has loaded?" This is a user experience element that good developers will have already addressed. Many predatory spam sites use CLS spikes to generate clicks through their ads. Think of times you've clicked an interesting article and every time you try to hit "next page" or "next slide", the page shifts and you end up clicking ads by mistake—generating a small amount of revenue for that site each time. The CLS metric is Google's way of minimizing predatory sites in their results.
Some SEO professionals have the skill set to address these, especially those that focus on the technical onsite side of the efforts, but developers can 100% address all 3 of these.
Prioritize Mobile
Google has been hyping mobile experiences for 3-4 years now. I attended an event at Google NYC in 2016 and the Google reps that spoke talked almost exclusively about wearable devices and mobile experience as the upcoming priority. The next year, I attended a conference in San Diego, and once again Google reps spoke about the importance of mobile user experience.
In May this year, they'll be delivering the update they've been warning SEO experts and developers about for going on five years now. Core Web Vitals is broken into 2 pieces: desktop and mobile. From the experts at SEJ Summit and the Google reps I've worked with in the last few years, the mobile experience in Core Web Vitals is going to be everything.
There is added value in optimizing for mobile-first. If it's small enough and fast enough for a mobile screen, it's definitely small enough and fast enough for the desktop with increased computing power and display capabilities.
Translating Core Web Vitals into a Plan
Inside the Core Web Vitals tool, they've nested the nemesis of technical SEOs—the PageSpeed insights report. This is where we, as SEO experts, can give meaningful insights to a developer to take action in the months we have left before Google updates the algorithm.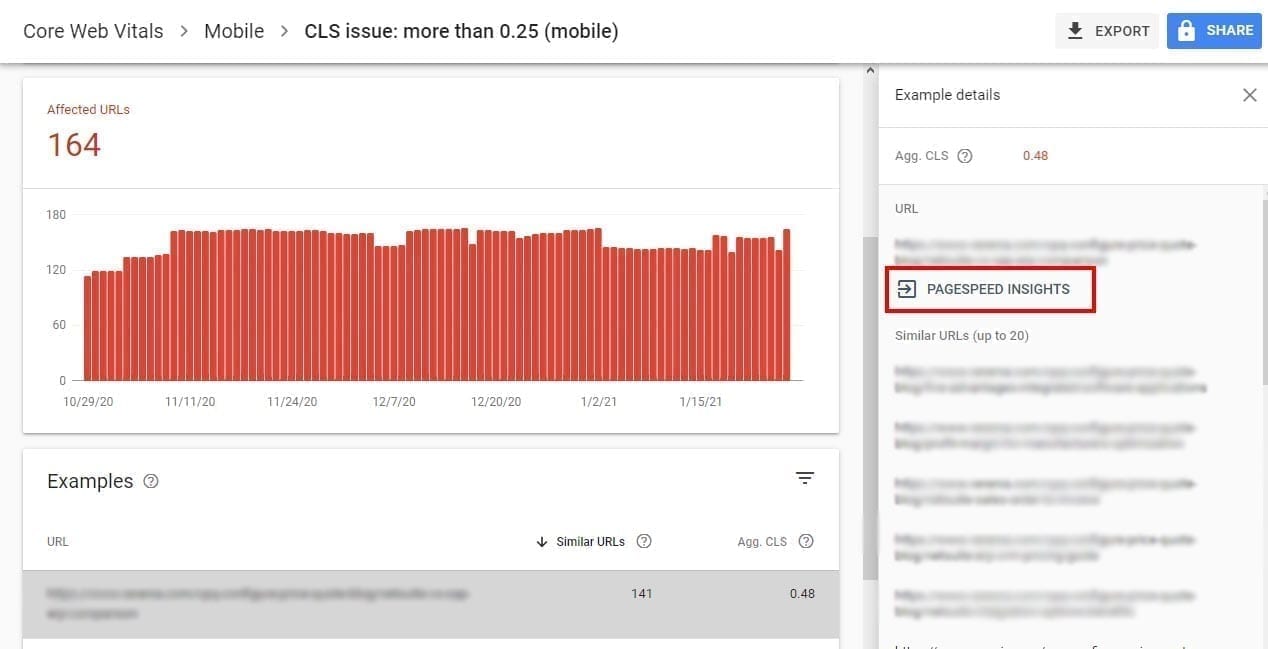 In the Pagespeed Insights, Google offers up specific line items that can be addressed by developers to make sure a page or site is firing quickly enough to meet the new standards. Google even goes the extra mile to inform you of the highest priority by time saved. Again, make sure (top left of the report) you're optimizing for mobile first.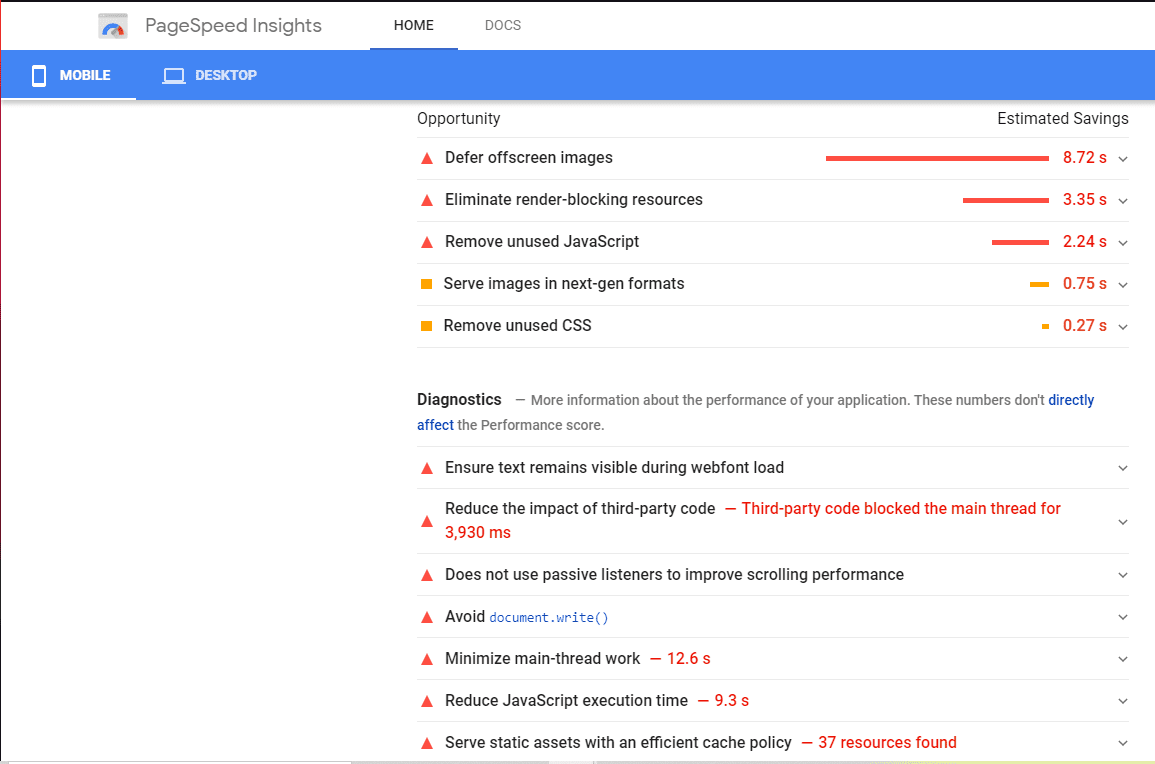 These reports can be overwhelming to the untrained eye, but to a Technical SEO or a Web Developer, this is a to-do list. Diagnosing WHY these things are happening is 80% of the battle. Deploying the fixes is the easy part. In many cases, JavaScript problems are to blame for page load time, and often these come from the CMS (WordPress, Wix, Drupal, etc.) having too much unused JavaScript on any given page because the theme is set up to offer more than you need.
Developers that have experience with these languages can diagnose and strip out unnecessary elements from CMS themes fairly fast. It's not something anyone should try unless they're fluent in the JavaScript language. Other issues could stem from simpler things like image or attached file sizes, which most SEOs can handle without an assist; while others come from even more complex places such as load order and passive listeners.
Just Hearing About the Update Now?
This isn't a simple task. Improving pagespeed and site performance takes an expert team of developers and ideally an experienced SEO to inform the efforts to keep those Index Spiders happy and coming back to the site on a regular basis. 
Learn more about our results-driven SEM and SEO solutions here.