Huda Kattan, an Oklahoma-born makeup expert, began her career with a simple makeup blog. Today, her Instagram page, @hudabeauty, now has over 49.5 million followers. How did she get there?
Huda became one of the world's most successful social media influencers by demonstrating makeup applications, setting trends, reviewing products, and creating how-to videos for her followers.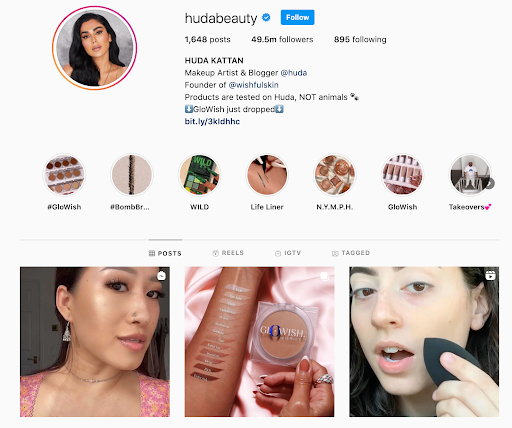 You don't have to be in the business of makeup to apply the several different fundamental aspects surrounding the phenomenon of social media influencers that your brand can take into account to expand your online presence. But first, let's dive into exactly all that influencer marketing entails.
The Basics of Influencer Marketing
Influencer marketing is a social media marketing strategy, leveraging endorsements and product mentions from social media users with high followings and who are seen as experts within their niche. Their followers trust the recommendations they make, so brands often partner with influencers and use their relationship with their followers as a form of social proof for the brand's products or services—reaching new audiences and gaining increased exposure.
The key element? Building on the trust between the influencer and their followers. Regardless of whether you're in the B2B or B2C space, this is something you can run with.
The Hesitations Behind Influencer Marketing
Even with the extreme growth of social media influencer marketing in recent years, especially with the wide adoption of platforms like TikTok and the continuously increasing growth of Instagram, there are a few noteworthy barriers to its success.
First of all, the very foundation behind influencer marketing success can also be its weakness. Brands are leveraging the trust that is built between an influencer and their followers, but if the influencer is seeming to only "sell-out" this trust and exploit it as an opportunity to make money and advertise products that they don't actually believe in, the concept can leave a bad impression on followers.
Additionally, influencer followers did not follow their profiles to constantly be sold to. Most of the time, people are logging into platforms like Instagram to be entertained. So it's vital that influencers are not taking advantage of the relationship they've built with their followers, misleading them, or forcing them to spend their attention in ways they don't want to. Below, we dive into the ways you can ensure your followers are enjoying the experience of engaging with your brand.
6 Tips for Creating a Social Media Presence Worthy of an Influencer-Like Following:
There are many social media influencers that we can learn lessons from and apply them to develop a social media strategy for virtually any market.
1. Be Authentic 
In today's digital age, it's more important than ever to "humanize" your brand and show people what makes your company what it is. Influencers have become famous by revealing their true personalities and being honest about their challenges, accomplishments, and feelings during their everyday lives. It makes it easy to engage with and relate to them.
With your brand, make it a priority to show the people behind your organization on your social media profiles, as well as the day-to-day operations of your company. Give something that your followers can relate to with an authentic inside look. It's okay to be a bit more casual in this environment than on your service contracts. At the end of the day, your followers want to see not only business-driven content but also light-hearted and fun content in their feed. You can provide this by posting an occasional meme or quote that relates to your industry.
2. Be Intentional with Your Content Types
As I mentioned previously, Huda's makeup page is largely successful because of the how-to videos that are posted on a regular basis. Social media is the perfect place to provide raw, informative content that your followers can actually apply to their daily lives. Posting quick tips—through infographics, videos, etc.—are both helpful and entertaining for your followers. This helps in building trust between your followers and your brand, as well as positioning yourself as a resource and thought leader in your industry.
3. Share Customer Success Stories
Kayla Itsines is another influencer worth mentioning. She is an Australian personal trainer, author, and entrepreneur with over 13 million followers on Instagram. Her secret? Kayla posts workout videos, inspirational messages, diet tips, and most importantly, customer success stories on her page.
A strong form of motivation (that reaches far beyond just fitness goals) is seeing the results of others on social media. Take advantage of this, and promote your own customer success stories to show how your customers have benefitted from your products or services. It's only natural to think in response, "If it happened to them, it can happen to me." Again, this is another source of building that trust between you and your followers.
4. Engage with Industry Peers and Your Followers
Social media became so popular in the first place because it opened up avenues for two-way communication. Instead of only being spoken to, anybody can have a say in the conversation. Many successful influencers regularly engage with not only their followers—ensuring that they feel that their voice is heard, important, and worth the influencer's time—but also other influencers or famous faces from within the same industry.
It's important to establish and display these relationships on social media. Engage in conversations with industry peers, partners, and other thought leaders. Additionally, engage with your followers. Respond to comments, reviews, shares, and more to make sure your followers feel that their voice is important to you.
5. Keep Your Followers Up-to-Date
No ghosting! It's important that today's social media influencers are regularly posting for their followers. There's certainly enough competition out there for them to be replaced if they begin "dropping off". Additionally, each follower made the commitment to follow their account because they enjoy what is posted and they genuinely want to see more. It's important to not leave them hanging.
As I'm sure is no surprise, it's essential to follow this same rule with your business' profiles. Make sure to post regularly and frequently, keeping the conversation going and displaying your unwavering presence in the industry.
6. Stand for Something
The influencer profiles that dominate on social media always have a very clear purpose behind them. Make your organization's purpose very clear through your platforms and messaging—giving yet another reason for your followers to trust you, engage with you, and join your mission.
Are You Ready to Become Your Own Social Media Influencer?
The experts at Uncommon Marketing Works can dive into your social media marketing strategy and have you gaining valuable, trusting followers in no time. Schedule a 30-minute free strategy call with us today!