Learn about Google's mobile-first index change and how to prepare for it.
On April 21, 2015, a new word entered the lexicon: "Mobilegeddon." This was Search Engine Land's response to Google's announcement that day that at some future date uncertain, the search engine giant would begin indexing websites based on their mobile rather than their desktop version.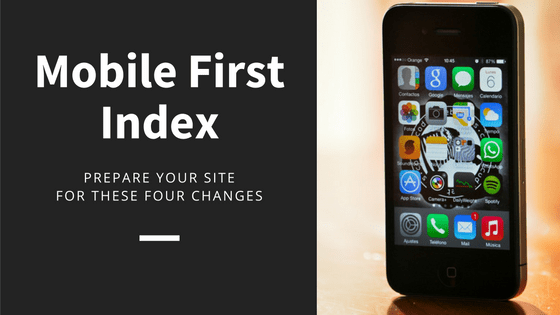 Businesses, especially those without mobile-friendly sites, responded with a litany of frenzied questions: What would mobile first indexing mean for their website and their business? Would it substantially change their search engine rankings? What if anything could they do to ensure that their site would fare as well with this algorithm update?
Why the Change?
The percentage of searches conducted on mobile devices had been steadily increasing for years, something about which Google was keenly aware in April 2016. Just seven months later, in November, mobile searches finally overtook those on desktop computers, accounting for 51.3 percent of all searches, according to StatCounter Global Stats.
Google's mission is to provide its users with the most relevant and useful content possible. Since most of its users were now viewing search results on mobile devices, it made sense to index web pages based on usability on mobile devices.
What Exactly Is Mobile-First Indexing?
Google uses bots to crawl websites and add pages to its index. The bots are programmed to behave the way users of the site behave, testing how quickly or slowly pages load, clicking on links, and reviewing content for relevance and authority. With the move to mobile first indexing, those bots will now crawl a site's mobile version.
Will Mobile-First Affect Search Rankings?
If your mobile site is responsive, your search rankings shouldn't be affected. Similarly, websites that have only a desktop version should fare equally well (or poorly) in search engine rankings. If, however, you have a non-responsive mobile site, there could be a problem. For example, if there are links on the desktop version of your site that don't appear on the mobile version, as far as Google is concerned, those links don't exist, and that could affect your site's ranking in search results.
As Neil Patel notes:
"…if you have a site optimized for mobile, you'll rank well on both mobile and desktop. On the other hand, if your site doesn't perform well on mobile, your rankings will sink on both mobile and desktop…In short, to rank well on Google with the mobile-first index, you need one important ingredient: a responsive mobile-optimized site."
How Should Companies Prepare for Mobile-First?
HubSpot recommends that you take three critical steps to avoid dropping in search engine rankings once mobile first has fully rolled out:
Make your site is mobile-friendly: Make sure you have a fully responsive mobile site, one that adapts to every screen size and makes the necessary accommodations for resolution, image size and scripting abilities.
Adjust your content: It's important to make any necessary adjustments to the content on your site. For example, mobile content is typically shorter than that on desktops, given the smaller screen size. To maintain the authority of your content on mobile, consider integrating other types of content which require less space, like video and audio.
Reduce load time: Make sure your mobile web pages load quickly, as this will be an important factor in mobile first indexing (to learn more about reducing load time, review HubSpot's five-step process).
Conclusion
Google's mobile-first index might seem an unnecessary (and unpleasant) disruption. In fact, it's a logical response to changing consumer behavior. It's important to remember that whatever changes you need to make to maintain your current search engine rankings are also likely to enhance user experience. Ensuring your site is mobile-friendly will, in other words, both put you in good stead with mobile-first and improve the impression you create with site visitors.